Hi adventure friends !!
I just came back to Sweden from Nepal after a awesome reunion month with my Nepaleese friends in the Sagarmatha mountains. The pandemi is over and very much is turning back to normal conditions in Nepal. I have been missing Nepal and my friends so much. Friendliness is the first thing you feel arriving to Kathmandu and that´s what brings you back.
The need for jobs in Nepal is large after the last three years. This occupies the daily mindset so much that its easy to forget more longterm issues such as climate impact in the Himalayas. That´s why I decided to spend some time on this topic during my climb. Now and then I meet people that claim they have no power to impact or can make a change. This is sad since most people have a choice in the daily life to make. I personally still have lots to do in order to contribute. In this blogpost I want to contribute to awareness about the situation in the Himalayas and particularly Nepal. You can help me spread this video amongst your friends….
[mc4wp_form id="180"]
My first observation when arriving to Kathmandu was that the monsoon was very lengthy and late this year also. The monsoon moves warm, moist air from the southwest Indian Ocean and blows towards countries like Nepal, India, Sri Lanka, Bangladesh, and Myanmar. In Nepal this created a situation of rain and snow at high altitude. Many 8000m mountains became dangerous due to layered snow with heavy snow on top. Avalanches hit various places and also base camps in the climbing areas.
Our team met with Tommy Gustafsson and his wife Angela Lama Blon. They live in a newly built house called "Sagarmatha Next" just above Namche Bazaar. This is both a home, a museum and a place for artists to work at. They are deeply involved in environmental protection in the region and strive to promote sustainable tourism in the area. All profits they generate are reinvested in improving the waste management systems in the Khumbu region. One of the programs called "carry me back" became a great success.
The famous Twinotter planes couldn´t lift from Kathmandu towards Lukla during almost two weeks due to the monsson which created a crowdy situation for many trekkers. Almost 2000 trekkers got stuck wainting to get up to Lukla. I was lucky to make a detour and could access Surke after two days in Rumjatar village. Rumjatar is a non touristic village and very near to the Sagarmatha Zone which gave us the opportunity to catch a weather window very fast. Our little team with two girls from Israel and Brazilian pilot had great fun in the village learning alot about local herbal medicines, the Brazilian election, the difference between jersey and local cows ….  during the two days.
After a fast trekk up to Everest Base Camp the team checked out conditions for flying and landing in the area which seems pretty good. I can´t write more at the time being…. So we went to Lobuche and made the climb up to High Camp. The Lobuche climb is a 5-15 hour climb depending on what skills you have, I did it in 7 hours. The climb has a mix of everything from various mountains but overall its a fairly easy climb. Lobuche west summit offers a fantastic view towards the Khumbu glacier and many other peaks in the area: Everest, Nuptse, Pumo Ri… Its an interesting mountain to study since it has glaciers, snow, rivers and lakes. Measuring the environmental changes in this habitat is what the EVK2CNR research lab is about. Listen to the interview of Mr. Kaji Bista at the lab and think about your contribution.
I also met with Dawa Yangzum Sherpa who is a professional climber and UIAGM guide. I wanted to understand her experience from the climate change.
Returning to Europe in war, questionable focus on environmental issues, financial crisis isn´t very uplifting. Not only politicians at COP27 have a large responsability today – everyone has to take some action. Take a look at my videos below and make up your mind and take some action. Mr. Kaji Bista at the EVK2CNR research lab in the Himalayas talks about "black stones" in the snow and ice. These are not natural variations, they are a result of human activity and I believe everyone can understand this and should care.
However, we finally could sneek in under the clouds …… enjoy!  //Bjorn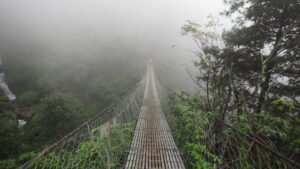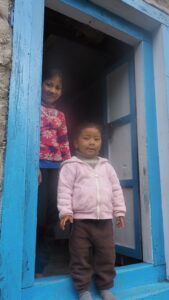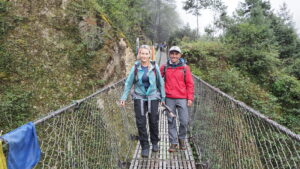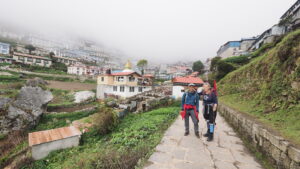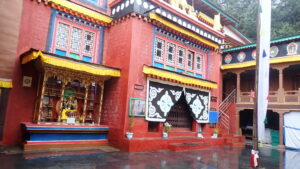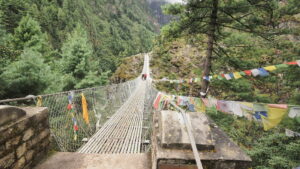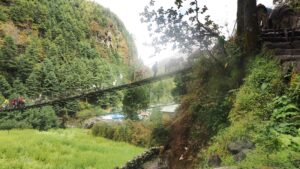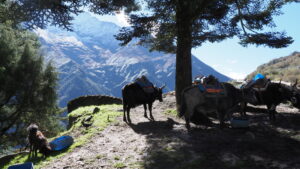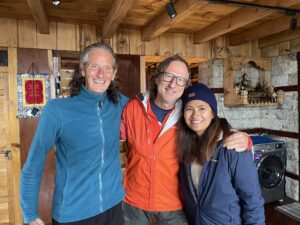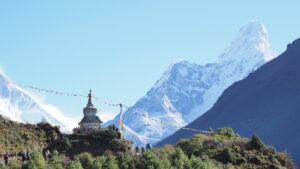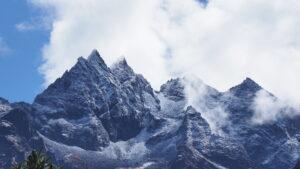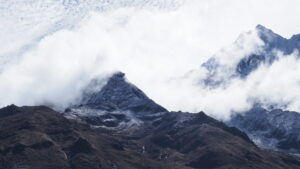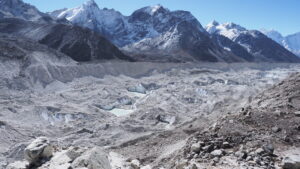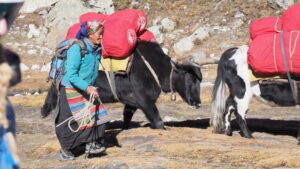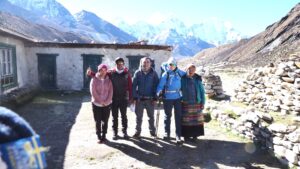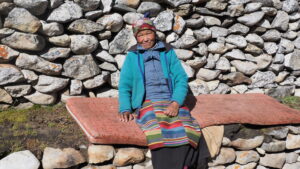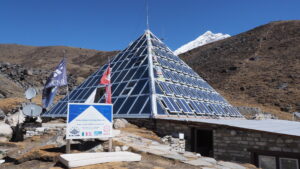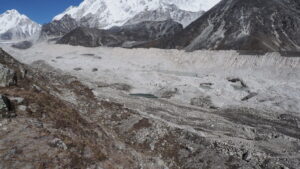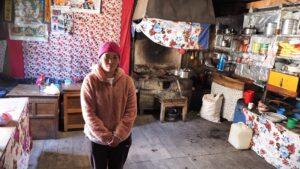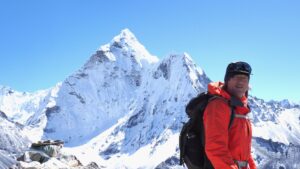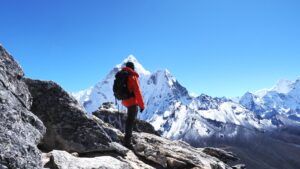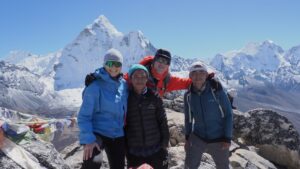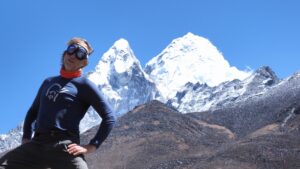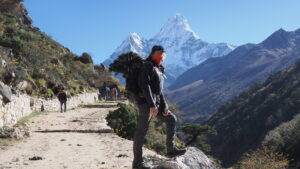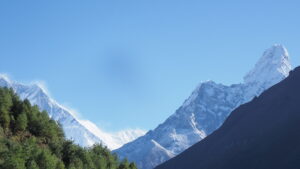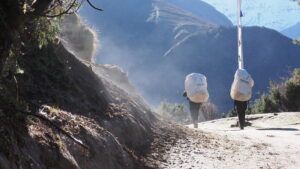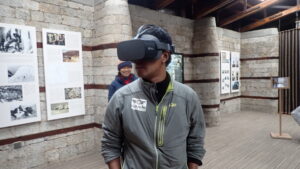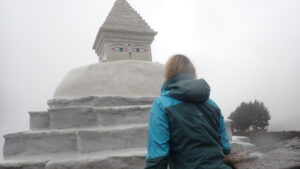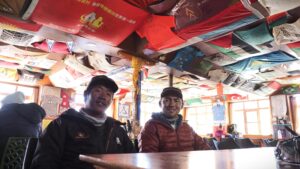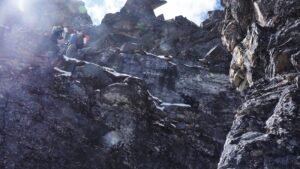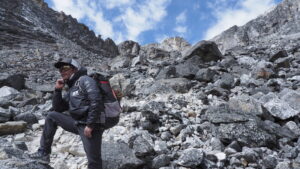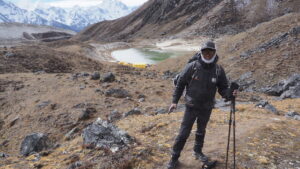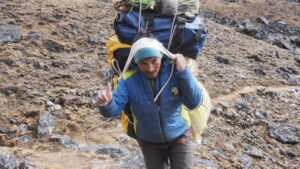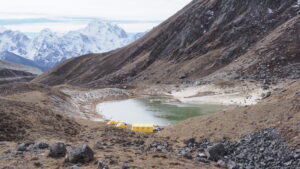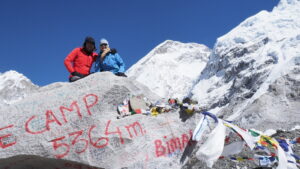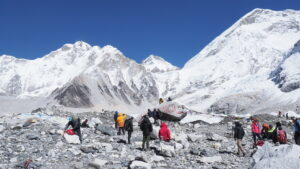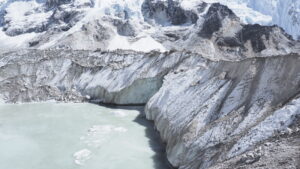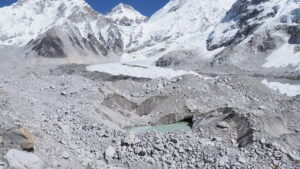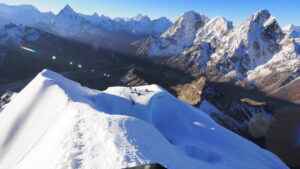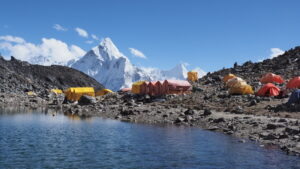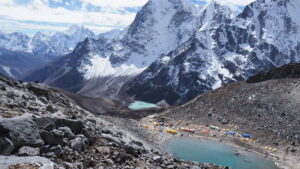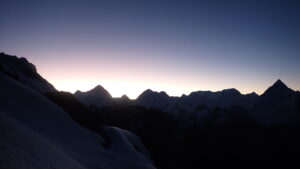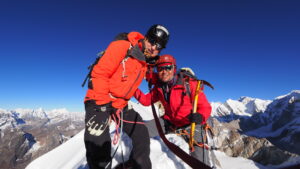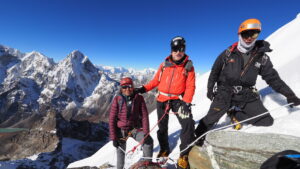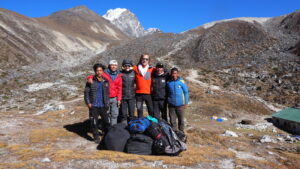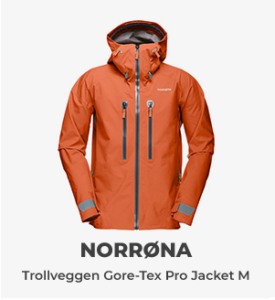 Popular tags