When I returned from Nepal and Everest Base Camp I was surprised from the volume of pictures and videos – 2000 images and 50 videos. Its taken quite a while to clean up this volume. Finally its done and the most memorable images are published in this blogg as my New Years present to my blogg-readers. Everest Base Camp and escpecially the view of Mt Everest is something that stays on my retina. I am working on an idea about the videos, let me get back on that!
When remebering the journey through all valleys, rivers, villages, woods, rocky landscapes the experience of nature is large. But, somthing that creates even stronger memories are meetings with people I met and how kind the Nepalesse people are. Many whom I met with have a week financial situation but still expressed a large portion of happiness.  Learning happiness is something we sometimes believe is obvious. I have learnt, its not. Give it a thought, what makes you happy?
Bumping out into Kathmandu a late afternoon at 6PM is a great experience. Everything is going on at the same time. The coordination of activity follows the same pattern as cables hanging over the road, there is control in some way – but, who knows how?
[mc4wp_form id="180"]
During our short stay in Kathmandu we visited the Pashupatinath Temple. Its a notable place in the middle of Kathmandu. Hindus say goodbye to their deceased relatives at an open ceremony where friends and families are invited.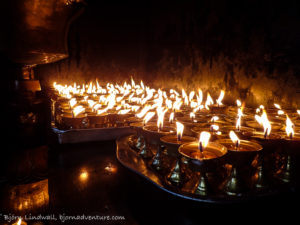 Departure to Lukla Airport in the Himalayas. This airport is amazing and said to be one of the most dangerous airports in the world. However, the pilots are experienced and fly in to Lukla eight times every day.
Our coach and guide Robin Trygg is a great asset with all his experience from several Everest expeditions the last years. Robin has such a great sense of humor and made the team stay happy during the entire challenge reaching Everest Base Camp.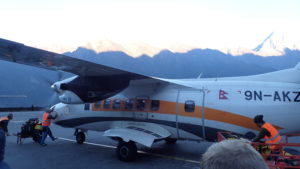 Waking up in the middle of all amazing mountains is a dream. Yoga was a way to even experience them deeper every morning.
Lukla is an amazing village that has no other transportation access than the airport. Still, you can find Starbucks coffee in this place! Chhiring Dorje Sherpa is our guide from Kathmandu and his uncle owns the YakDonalds in Lukla, a fantastic hostel with most comfort you need before departing towards higher altitudes.
Leaving Lukla was the was start of an amazing trekk that will stay in my mind for long time. We passed by several villages where we spent the night: Phakding (2640m), Namche Bazar (3440m), Khumjung (3780m), Tengboche (3860m), Dingboche (4410m), Chhukhung (44730m), Thokla (4620m), Gorak Shep (5140m), Everest Base Camp (5364m) and Pheriche (4240m). Some villages we spent several nights in due to the need of altitude acclimatisation. During these days we could make daily tours of up to 1000m in altitude.
Buddhist texts protecting visitors from bad luck are all along the trekking route to Everest Base Camp.
Some views make you do things to feel more and assimilate harder!
When living at an altitude of 4500m is essential to save everything for heating and protect the environment. Yak poo dried in the sun, serve as fuel for the local people.
Mountains are fascinating when they suddenly appear much higher than you ever could believe, new perspectives arrive in your mind and you become humble.
This little doggie became my friends for an hour at 5500m altitude.He was totally acclimatised in such a way I became jealous at him!
Seeing Mt Everest peal is something very special. I could almost see the North Col on Everest also. We were so lucky with the weather this day, everything clear and almost no wind!
Seeing Kumbu Valley and the ice glacier was impressive. At the same time I understood why this is a dangerous place, things tend to move all the time. The last day in high altitude Chhiring managed to arrange a helicopter ride for the team. We could then see the glacier from above which has even more amazing!
We passed by Ama Dablam (6856m) which is considered to be one of the most famous and beautiful peaks in the world. The first impression was that it looked dangerous. But after having spent time with views from several directions for some days it seemed finally as something possible and exciting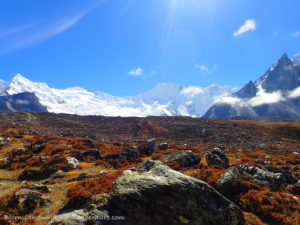 To all my blogg readers during 2015 and 2016 – I wish you all a Happy New year! I hope by writing about my adventures I inspire other people to initiate a change in their lives towards something adding value in an already happy life. All new friends I have met mean alot to me.
Great thanks to Suunto, Norrona, Balance, Concept for Life and finally my family!
/Bjorn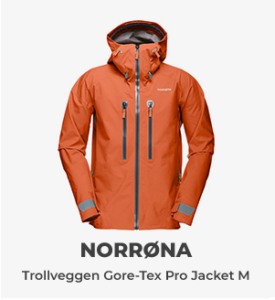 Popular tags